Carers Week 2022 
Care Alliance Ireland are running Carers Week from June 13 – 19. The Carmichael resident organisation are overseeing a week of over 80 events.
Key Events
In Dublin for example there will be a coffee morning on June 16 from 10.30am – 12.30pm in Saint Maelruain's Church, Tallaght, being held by Family Carers Ireland.
If you are in Donegal there will be a Wellness Afternoon on June 15 from 1pm – 3pm, being held by CDP na Rosann CTR, and will be located in CDP na Rosann CTR, Chapel Rd., Dungloe.
Online Events
If you prefer there will be online events too. For example, on Monday June 13 Online Family Carer Support Group/ Care Alliance Ireland will launch their Garden Calendar Photo competition.
Acquired Brain Injury Ireland will host a Mindfulness session the same day Monday June 13 from 11am with certified mindfulness teacher Susan Barrett.
As stated, with over 80 events, this is clearly an effort of collective community on a national scale. There are in-person events in every corner of the country, and also many more in the virtual space throughout June 13 – 19.7
"Being a carer can be challenging at times but the rewards of what I have learned through being a carer for my daughter and the experience of holding her hand along her journey has, without a doubt, outweighed these challenges", Caroline Lawless, a carer and worker at The Care Alliance.
About 
Care Alliance Ireland reside in Coleraine House as part of the wider Carmichael community. Formed in 1995 Care Alliance Ireland  have been active in commissioning and collaborating on primary family carer research, disseminating family carer research, making submissions and in preparing discussion documents.
They are one of the leading voices for one of the largest and most selfless communities in the country. For example, in early 2020, they set up the Online Family Carer Support Group which now has nearly 3,000 active members. Thanks to annual HSE funding, this project is now on a sustainable financial footing.
In 2021, they set up two new projects; one being Kaleidoscope, which intends to support family carers return to the paid workforce and Return Ready to enhance the ICT skills of family carers.
Contact
If you want to contact them you can do so here. Finally, if you want to connect on social media their Twitter can be found here.

Prader-Willi Syndrome Association of Ireland (PWSAI) will host the International PWS Conference in Limerick in 2022.
The successful bid was made by PWSAI at the recent Global IPWSO conference in Cuba, which was attended by over 450 delegates from 45 countries.
IPWSO's international conference is held every three years, and each time in a different country.
PWSAI was one of four countries bidding to hold the 11th conference in 2022.
The Association received strong support from family members, clinicians, an Taoiseach, Leo Varadkar and Minister for Health, Simon Harris and was successful in winning the bid. The event will be hosted in the University of Limerick in 2022. "We have a strong community of people with PWS as well as their families and professionals," explained PWSAI Development Officer and member of the bid team Gary Brennan. "The hosting of this conference will enable further shared expertise, knowledge and an increased awareness of PWS on a national and global level".
About Prader-Willi Syndrome Association of Ireland (PWSAI)
PWSAI was started by parents in the late 1980s as a support group for people with Prader-Willi Syndrome and their families in Ireland. They are a resident member group with Carmichael.
Objectives of PWSAI are:
To provide support for persons with PWS, their families, and their carers by providing a range of services such as: promoting awareness of the syndrome; providing information services including seminars and conferences; and by promoting best practice standards of care for persons with PWS;
To facilitate the development of each person with PWS to the full extent of their abilities in an educational, social, work, and leisure context;
To facilitate awareness and understanding of PWS among the general public, among health professionals, teachers, etc.;
To facilitate earlier diagnosis of the syndrome;
To encourage and support research into PWS.
Independent Living Movement Ireland (ILMI) launched our #DeclarationofIndependence video campaign on Sunday 5th May as part of European Day on Independent Living. The short film features twenty disabled activists from across the country talking about the need for disabled people to work together and for issues disabled people face to be seen as equality and human rights issues.
"Our video is about changing the conversation in Ireland and Europe about disability. Our philosophy as ILMI can be best summed up as "Nothing About Us Without Us" and "Rights Not Charity". What the Declaration of Independence is about is getting a clear message from disability activists of the type of Ireland we want to create. We want this to be a powerful message to get more disabled people involved and for us to be strong together to demand our rights", said Sarah Fitzgerald, ILMI secretary who is a writer and scripted the video.
"We as Independent Living Movement Ireland want to bring about a more inclusive society. The only way this can happen is if disabled people work collectively together. The first step is for disabled people to recognise that the issues facing disabled people are equality and human right issues. We need disabled people to recognise that change is possible, but we need people to be active, to let policy makers and politicians know what we want and not be afraid to demand our rights" said Shelly Gaynor, Chairperson of ILMI.
"The video is all about getting disabled people to recognise that the way society is structured is what prevents our involvement. We need people to realise that it is not okay that our transport system isn't fully accessible. We need non-disabled people to realise that Ireland can and should be a place where disabled people are able to do the day to day things that every takes for granted." added Ms Fitzgerald.
In 2014 the European Network on Independent Living (ENIL) declared May 5th as the European Day on Independent Living as a day of celebration to coordinate European-wide events and actions in the name of Independent Living. It aims to bring together disabled people and their allies throughout Europe together to raise awareness of Independent Living and to show the wider public that disabled people we are proud, strong and visible!
"As a founding member of ENIL, it is really important for ILMI to be involved in this European action. Real independent living is about people being heard, their voices respected and their choices honored. The message is so clear and powerful: disabled people are the experts in their lives and for too long their voice has not being listened to in Ireland or in Europe. We hope that this video encourages more disabled people to become involved in ILMI and affect policy change by working collectively and making Ireland a more inclusive society", said Damien Walshe, ILMI CEO.
The video can be viewed on the ILMI website at https://ilmi.ie/ilmi-video-resources/ or Youtube
Independent Living Movement Ireland (ILMI) was established as CIL in 1992 by and for disabled people. Its aim was to ensure that disabled people achieved Independent Living, choice and control over their lives and full participation in society as equal citizens.
We are a campaigning, national representative organisation that promotes the philosophy of independent living and to build an inclusive society. Central to the way we work is to ensure that policy decisions that impact on the lives of disabled people have to be directly influenced by those whose lives are directly affected.
Our philosophy can be summed up as: 'Nothing about us without us!' and 'Rights Not Charity'.
Our vision is an Ireland where disabled persons have freedom, choice and control over all aspects of their lives and can fully participate in an inclusive society as equals. Visit www.ilmi.ie for more details or info@ilmi.ie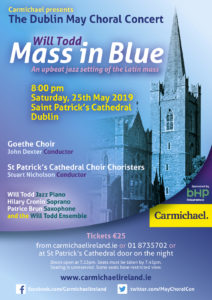 Carmichael presents
The Dublin May Choral Concert 2019
Will Todd: Mass in Blue
An upbeat jazz setting of the Latin mass
and Pater Noster by Igor Stravinsky
Featuring:
Goethe Choir
Conductor: John Dexter
Saint Patrick's Cathedral Choir Choristers
Conductor: Stuart Nicholson
Soprano: Hilary Cronin
Saxophone: Patrice Brun
And the Will Todd Trio
When: 8pm on Saturday, 25th May 2019
Where: Saint Patrick's Cathedral Dublin
Booking for this event has now closed. Tickets will definitely be on sale at the venue.
Discover more about the inspiring work of our resident member organisations, their impact and the difference they make to communities across the country. Our featured story is Heart Children Ireland.
Heart Children Ireland is a support group for parents and families of children with a Congenital Heart Disorder(CHD).
Who we are and what we do:
We are a nationwide organisation with over 1,000 member families.
We were founded in 1990 and are a registered charity.
We are a completely voluntary group and currently receive no government funding.
We depend on our own fundraising and donations from individuals and businesses.
In the first 28 years of our existence, we raised over €2.5 million for the Children's Heart Centre at Our Lady's Children's Hospital, Crumlin.
IT IS FREE TO JOIN HEART CHILDREN IRELAND- you are welcome to contact us!
We offer support in many ways. Here are some examples:
We hold social events where families can meet, for example, coffee mornings, parties and picnics.
We hold information days for families around the country focusing on cardiac topics of interest.
We provide a Family Psychology Support Service free to all members. Individuals of all ages with congenital heart conditions, family members and bereaved families access this service.
We hold an annual conference with keynote speakers from the world of congenital cardiology.
We have purchased equipment for both the Children's Heart Centre at Our Lady's Children's Hospital and the Adult Congenital Unit at The Mater Hospital. For example, we purchased the first ECMO machine for the Intensive Care Unit at Our Lady's Children's Hospital.  This machine is saving lives on a daily basis.
We work hard to raise awareness of the issues relevant to our members by representing them in relevant forums.
We have provided a dedicated clinic room for the Adult Congenital Unit at the Mater Hospital to facilitate our teenagers transferring from Our Lady's Children's Hospital.
Through our News Briefs, we provide updates about Heart Children Ireland services and supports, as well as relevant information about health service matters.
We are privileged to manage The Blue Ribbon Fund on behalf of the Moran family. This fund provides assistance to families on the transplant journey with their child. This fund is in memory of Elaine Moran.
Margaret, CEO, and Linda, Administrator, provide a listening ear should you wish to contact them.
Help us to continue to support our families, children and adults. To support Heart Children Ireland, just click on the "donate now" button on the website www.heartchildren.ie.