Webinar March 29th 2.30pm
Join Carmichael CEO Diarmaid Ó Corrbuí, Patrick Downes and Edward Rees to hear best practices on how your governing board can increase its effectiveness.
Board effectiveness holds many definitions depending on the industry, mission, organisation size, local legislature, challenges and tasks at hand, and more. However, there are some common factors all governing boards must adhere to to be successfully effective.
Register for Board Effect's 30-minute panel discussion webinar to get the latest insights on how to increase board effectiveness in mission driven organisations. Industry experts will discuss, provide tips, and share best practices on:
Defining board effectiveness
Board member recruitment, onboarding, and annual reviews
Information sharing structure and processes
Board member communications, engagement, and more!
Governing boards are expected to be more engaged, more knowledgeable and more effective than ever. The good news? There are ways to achieve this by implementing the right tools and best practices.
Sign up here.
Wednesday, April 26
th
, 1.10pm-2pm
In this webinar our panel of experts will discuss a real governance issue which an Irish nonprofit has faced and suggest actions to take. There will also be an opportunity for the audience to ask governance-related questions. Book your place here. 
This webinar is a live discussion based on Carmichael's Governance Dilemma newsletter, formerly the Trustees' Quandary. In each edition, we look at a real-life challenge that a nonprofit Board has faced and considers a range of responses. The scenarios are anonymised so as not to identify any particular nonprofit.
If you would like to sign up to this mailing list, see here.
The panel consists of: 
Gerry Egan, consultant and trainer. Gerry works with a variety of commercial and non-profit clients specialising in corporate governance, data protection and strategy and change. 
Andrew Madden, Head of Training, Consultancy & Communications at Carmichael. Andrew enjoys working in the non-profit sector where he sees people motivated by a desire to make a real and positive difference. He is particularly passionate about governance in non-profit organisations as he believes that well-governed organisations are best placed to achieve and realise their own objectives to the fullest. 
Jillian van Turnhout, consultant, Chartered Director and certified by INSEAD in corporate governance. Jillian has been a CEO, Chair and is an experienced Director (State, Charity and Commercial).  
The panel will be chaired by Diarmaid Ó Corrbuí, CEO of Carmichael. Diarmaid has extensive experience as a board chair and a board member in a number of charities and with working with boards and providing governance support and advice. He is actively involved in the Good Governance Awards, Mentoring and the Board Chairs Network initiatives led by Carmichael. 
In each edition of the Governance Dilemma newsletter, we will look at a real-life challenge that a Board has faced and consider a range of responses.
This was known as Trustees' Quandary and changed to Governance Dilemma in March 2023.
If you would like to join the mailing list, sign up here.
For an example of a previous Governance Dilemma, see below:
Governance Dilemma
Michael has been on the Board of a mid-sized charity (and CLG) for four years. At the beginning of his tenure, he felt meetings were collegial and friendly. Michael felt the charity was in a healthy position based on reports to the Board. He thought they were in good hands with a long-standing Chair and CEO. 
Six months ago, Michael joined the Audit and Risk Committee (ARC). In addition to Michael, there are two external members and the Board Chair who also chairs the ARC. As a member of the Committee, Michael began receiving detailed financial reports including cash flow statements which raised concerns. Upon further probing, Michael could see they were spending more than they were receiving in income. 
Michael asked the Chair of the Board who said it was a blip in their operating model, they provided services to a significant number of clients and therefore received state funding. State funding had declined over the past few years, as their contact point had changed. The Chair advised the CEO was handling the situation and it should be remedied soon. 
Two months later, at the yearly meeting between ARC and the Auditors, the auditors repeated their concern about the precarious finances of the charity. At this stage, Michael realised the reserve fund that was in place when he joined the Board was now depleted and had been used to mask the shortfall in income. The wider Board had not been informed of the previous warning from the Auditor or the use of the reserves.   
Michael is worried. He knows that he has not fulfilled his duty as a director/trustee. Michael is concerned about the solvency of the organisation and if he raises it too publicly will it damage the reputation of the organisation. What should he do? 
 Jean Callanan's Answer 
Michael is right to be worried. A key part of the director's responsibility is to ensure long-term financial stability, monitor the use of funds, ensure that controls are in place and discuss the organization's financial information to ensure financial accountability. 
Three aspects of this situation are particularly worrisome: 
The lack of financial data being given to the board. The board should have been receiving financial information that would have clearly shown that expenditure was exceeding income and that reserves were being depleted. 

 
The Chair of the board should also not be Chair of the ARC

 
The implication that there is collusion going on between the Chair and the CEO as demonstrated by the advice from the Chair that the "CEO is handling" what the Chair calls "A blip in the operational model."

 
My advice to Michael is that he needs to start by setting up a meeting with the Chair as soon as possible to set out his concerns, and to seek agreement that full financial data will be shared at the next board meeting, and the issue of overspend versus income and depletion of reserves will be given the time needed for proper examination and discussion. There needs to be full transparency of exactly what is leading to the overspend (a phrase like "Operational blip" is not satisfactory!) and how and when the CEO and executives propose to remedy the situation. If the next board meeting is a long time ahead perhaps a special board meeting needs to be held. 
Hopefully the Chair will agree to this approach – if not Michael may have to talk to fellow directors to strengthen his hand. This is too serious to ignore, and Michael will be failing in his duties to the organisation, and as a nonexecutive director if he does so. 
The fact that the Chair of the Board is chairing the ARC, that adequate financial data is not being given to the board and the hint that there may be a degree of collusion between the Chair and the CEO makes me fear that there may be other aspects of corporate governance in this organisation  which may not be in line with best practice. I would be suggesting to Michael that he proposes to the board an external board evaluation which will audit the overall corporate governance and help the organisation to get back on track. 
Jean Callanan is a Strategic Consultant and Change Maker. She is Chair of Irish Hospice Foundation and a Director of An Bord Iascaigh Mhara. 
Donal McKenna's Answer 
Michael needs to establish the rate at which the organisation is getting through its reserves to establish if they are insolvent. He now has a responsibility to report his findings to the rest of the board and to inform their funders of the ongoing situation.  
The next concern is that the Chair of the Board shouldn't also be Chair of the Audit and Risk Committee. If it isn't already there, this needs to be noted in the Terms of Reference for the sub-committee. Michael now needs to contact the two external members of the sub-committee to get their take on the situation.  
It's concerning that an ongoing financial report isn't being presented to the Board at least 4 or 5 times a year at meetings. The Board have signed off on the Annual Financial Report without appearing to have all the information. It could be that they haven't been given the training that they require in the roles and responsibilities of directors of a charity. However, even acting in good faith, this doesn't absolve them of their responsibilities. You can't make an informed decision if you don't have all the information.  
The auditors should be getting in front of the directors at least once a year, but this hasn't happened. If this has been actively blocked by the Chair and CEO then Michael needs to take hold of the situation and get the other directors on side, and they need to look at the process of removal of the Chair from their role as director.  
For the medium term, assuming the charity isn't now insolvent, they need to develop a business plan to establish whether they are sustainable or not. The continuing role of the CEO in this needs to be established because the future of the organisation is under threat and has been for some time under their leadership. 
Donal McKenna is a Chair of a charity and a governance consultant in the sector. He holds a Diploma in Corporate Governance from the Corporate Governance Institute and an MBA from Trinity College Dublin. 
Anna Lee's Answer 
This is a matter of significant concern as the company is at risk of / is trading recklessly. Michael and other Board members have had access to four sets of audited accounts that show diminishing public funding and diminishing reserves.  Auditors have brought these matters to the attention of the committee at least twice and it is unwise for the committee to ignore these concerns.  
Michael should ask the Chair to convene a special meeting to discuss finance.  If the Chair does not agree he should seek the support of other Board members to convene meeting.  The external members of the ARC should be invited to the meeting and briefed on the key agenda item. 
Michael, as the only Board member on the ARC apart from the Chair, needs to present the current concern to the Board. He may speak with the CEO or members of the finance team to fully understand the issue.  The first task is to ascertain whether the company is currently trading recklessly.  If it is, or is close to doing so, urgent action needs to be taken including getting legal and financial advice.  In this case, this should be the only item on the agenda. 
Once that key concern has been addressed, there are other issues to be tackled: 
The reduction in statutory funding: what has happened; what is the relationship like with the funder, how can the Board make a plan to increase or restore state funding. It is better to articulate and address the problem than to ignore it.

 
The reserves: was any of the money spent from reserves actually restricted funding, if so, can it be established that this has been used for the purposes for which it was intended.

 
Confidence of the Board in the Chairperson and CEO: should either or both step down from their roles? The Board may wish to set up urgent task group and ask Michael to lead; they'll need to identify key staff to assist the review and planning.

 
Agree broad approach to addressing the issues.  This work will require time, clear thinking, shared thinking, confidence, trust and a willingness 'to call it' if required.

 
Lots of charities have solvency challenges at some time.  The test of the charity is how these are managed. 
Anna Lee's work has focused on addressing poverty and social exclusion.  She currently chairs ActionAid Ireland and is a Board member of Focus Ireland and St Stephen's Green Trust. 
Thank you to all who attended the recent Lunch and Learn webinar.
Please find link to access the recording.
https://us02web.zoom.us/rec/share/tmfXNsE0fo37m5qtNs4-S6am13Sq8DI7QUifC2UXQb5u-0bOcPzcT_XLNw74D3ku.Es4kUaKtE_pGi7fV?startTime=1675948236000
If you have any questions please contact roisin@carmichaelireland.ie
 The Position: Board Member (Trustee & Director) with Governance Experience
The board of Carmichael, in line with its succession plan, is seeking to recruit a new board member with strong governance experience to join the Board in June 2023. The candidate should be operating at a senior level in a governance-related role such as Company Secretary or a role related to risk management, compliance or regulation. The candidate should also have a very good understanding of and interest in the nonprofit sector.
There are currently 12 members on the Board of Carmichael with two due to retire and be replaced at the upcoming June AGM. The maximum size of the board is 12. The board meets around 7 times a year. Board meetings are normally held online with at least two meetings per year held in-person in Carmichael House, North Brunswick Street, Dublin 7 from 5pm-7pm on a Tuesday.
The new board member would also be required to be a member of the board's risk and governance sub-committee which meets online 7 times per year on a Tuesday from 8.00am to 9.00am in advance of the Board meetings. The estimated time commitment of the board member is 8-10 hours per month.
The initial term of office for Carmichael Board members is 3 years, with an opportunity to serve a second 3-year term subject to Board approval.
Carmichael is the leading provider of governance training and supports to nonprofits in Ireland and has an excellent reputation for the quality of the supports it provides.  Carmichael's Board members have an essential role to play in contributing to good governance in Carmichael itself and the wider nonprofit the sector. As a governance expert, the successful candidate will perform an important role in ensuring that Carmichael operates to the highest governance standards.
About the organisation  
The Carmichael Centre for Voluntary Groups (Carmichael) is a registered charity, established in 1990 and is Ireland's first and largest shared facility for community and voluntary groups. The Centre consists of around 19,000 square feet of office space located in two buildings in Dublin's North Inner City. It provides office accommodation, meeting rooms, shared facilities, payroll, IT, training and consultancy support services.
The Centre is home to 44 nonprofit organisations who are based in the Centre. We are committed to building stronger charitable, community and voluntary groups nationwide. Carmichael was founded on the core belief that by co-locating in a shared space and by pooling resources, resident members in our Centre can save time, reduce cost, up-skill and thereby, focus on delivering quality services to their beneficiaries.
We work not only with the 44 resident members who are based in the Centre, but also with 100s of groups around the country. We work with boards and management committees on governance issues and in helping them to implement best practice and quality standards.
We provide a mentoring service for CEOs of voluntary organisations, a support network for board chairpersons, information seminars and disseminate articles and practical guides on good governance practice. The Good Governance Awards, the Carmichael Mentoring Programme and the Board Chairs Network are some of the examples of our work to provide support and guidance to nonprofit organisations.
Using Carmichael's quality and cost effective back-office services, its accommodation services and its training/ capacity building services enable nonprofit organisations to:
Focus more attention on their core mission activities;
Reduce their reporting and compliance costs;
Improve the quality of their financial information and meet the reporting requirements of funders  and regulators;
Improve capacity, competencies and operational efficiencies;
Divert the resulting monetary and time savings into furthering and enhancing their frontline service delivery.
Over the last 5 years, we have substantially expanded the scope and scale of the training and consulting support we deliver nationwide to include scheduled training workshops, customised training and eLearning modules. In 2022, we delivered customised training to 2,765 participants and scheduled training to 563 participants.
We are working to implement our current strategy (2022-25), and we aim to utilise and leverage our experience gained over the last 30 years, to implement the necessary actions to ensure that Carmichael has a sustainable business model and that it continues to deliver high quality and value-for-money services that meets real needs of both its resident members and those of nonprofit organisations nationwide.
Carmichael adheres to principles of equality, diversity and inclusion in all appointments including Board appointments.
To apply 
Please send a CV of no more than 2 pages and a cover letter of no more than one page through Board Match or directly to roisin@carmichaelireland.ie before March 27th. Your application should detail any relevant governance, nonprofit and Board experience.
Interviews are expected to take place online between 5.00pm and 8.00pm on April 19th and 20th.
For more information on the board vacancy or Carmichael, please contact the Executive Assistant to the CEO Róisín McGuigan at roisin@carmichaelireland.ie.
Carmichael is inviting interested parties to submit proposals to review the overall effectiveness of how our Board does its work and how its structures and processes align with the implementation of our Strategy.
It is expected that through desk research, questionnaire, a series of engagements with the board, its sub-committees and other relevant people from the executive, the consultant appointed will complete their work with a report which contains a series of recommendations to improve Carmichael's Board Effectiveness.
The closing date for receipt of tenders is February 19th 2023.
Tenders should be emailed to Róisín McGuigan (roisin@carmichaelireland.ie)
Please see Request For Tender document attached for detail.
Board Evaluation Request for Tender 2023
View https://www.carmichaelireland.ie/about-us/vacancies/ for more information on current Community Employment (CE) vacancies.
We will be taking a break over Christmas and the New Year.
We will close on Friday 23rd December and be back open on Tuesday January 3rd 2023.
If you need anything from us before then please get in touch.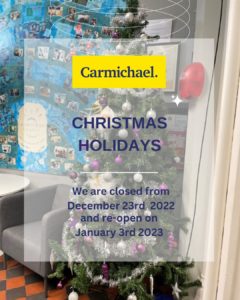 Carmichael Good Governance Awards for Non-Profit Organisations
The Good Governance Awards recognises and encourages adherence to good governance by nonprofit organisations in Ireland. The awards were developed by Carmichael with the support of our partners and leading national bodies in the nonprofit sector.
The winners of the Good Governance Awards 2022 will be announced at our Awards Ceremony on Thursday November 17th 18.00-20.00 at Chartered Accountants Ireland, Pearse St, Dublin 2. Book your free ticket here!
Shortlist for Category 1; for volunteer only and organisations with an annual turnover of less than €50,000
Shortlist for Category 2; for volunteer only and organisations with an annual turnover of between €50,000 and €250,000
Shortlist for Category 3; for organisations with an annual turnover of between €250,000 and €1 million
Shortlist for Category 4: for organisations with an annual turnover of between €1 million and €5 million
Shortlist for Category 5: for organisations with an annual turnover of between €5 million and €15 million
Shortlist for Category 6; for organisations with an annual turnover of between €15 million and €50 million.
Shortlist for Category 7; for organisations with an annual turnover of over €50 million.
The awards ceremony will be held on Thursday November 17th. Book your tickets here!
Charity Trustees' Week 2022 will run from November 14th to November 18th with over 20 exciting events for Trustees.
Carmichael's events include:
For the full schedule and booking links see: https://bit.ly/3TmviAQ
Charity Trustees' Week is hosted in partnership by the Charities Regulator, Boardmatch Ireland, Carmichael, Charities Institute Ireland, Dóchas, Pobal, The Wheel, and Volunteer Ireland.