It is ten years since Carmichael became involved in a series of meetings with various stakeholders on the need to set up a governance code for the community, voluntary and charitable sector. Looking back on our notes from those first meetings, it is clear that the issues and concerns still apply today: a recognition that a governance code should serve as a guide for boards on how to provide proper oversight; the need for a proportionate approach; the danger that compliance with a governance code gets relinquished by boards to managers.
However, much has happened since then. The Charities Regulator is now well established and has launched the Charities Governance Code. In the meantime, Sport Ireland adopted the Governance Code for Community, Voluntary and Charitable (CVC) Organisations as best practice for all sporting bodies. It makes sense that Sport Ireland takes over the CVC code at this stage, given the decision to retire the CVC code to avoid duplication with the Charities Governance Code.
Carmichael played a key role in the development and rollout of the CVC Code, including the provision of training and eLearning. We continue to support sporting organisations in attaining the highest standards of good governance.
We also provide support for compliance with the Charities Governance Code and look forward to developing these supports into the future.
See the Statement from the Governance Code Working Group here: https://www.governancecode.ie/
See the Statement from Sport Ireland here: https://www.sportireland.ie/Media/Latest_News/Sport-Ireland-takes-over-Governance-Code-for-sporting-organisations.html
The working group that developed and rolled out the CVC code consisted of the following:
Boardmatch Ireland
Business in the Community
Carmichael
Charities Institute Ireland
Clann Credo
The Corporate Governance Association of Ireland (CGAI)
Disability Federation of Ireland
Good Governance Solutions
Volunteer Ireland
The Wheel
Carmichael are recruiting a Community Employment (CE) Scheme Assistant Supervisor (position starts from 22 July 2019) to our CE project. The key responsibility of the CE Assistant Supervisor will be to assist the CE Scheme Supervisor with the administration of the Community Employment Project according to the Community Employment Operating Guidelines, thereby, ensuring that the programme is being run in accordance with all the Department of Employment Affairs and Social Protection (DEASP) guidelines and is of maximum benefit to both participants and Carmichael. The Assistant Supervisor's main remit is the ongoing recruitment of participants and the development and maintenance of Individual Learning Plans for the scheme participants.
Carmichael Centre for Voluntary Groups, established in 1990, is a major support and service provider to Irish nonprofits and is located in North Brunswick Street, Dublin 7. Our long standing CE scheme is a valuable part of the services we provide to our 44 resident charities and to local nonprofits. We are looking to recruit an energetic and performance driven person to manage this important programme in the dynamic and varied environment of Carmichael.
Work experience/Qualifications:
Must have 1 year's previous direct supervisory experience; Assistant Supervisors must have previous office management/supervisory experience, be computer literate with the necessary skills to undertake all of the administration duties required for the scheme at this level, be able to work as part of a team, have knowledge of community activities and work and have good communication and inter-personal skills.
Fluency in English.
See this link for details of the job description
https://www.carmichaelireland.ie/app/uploads/2019/06/CE-Scheme-Assistant-Supervisor-May-2019.pdf.
This is a full-time (39 hours per week) position and the salary for this post is determined by the DEASP.
Apply by sending CV to the CEO at diarmaid@carmichaelireland.ie or by post to the CEO, Carmichael, 4 North Brunswick Street, Dublin D07 RHA8.
Closing date for applications is 5pm, Thursday, 27th of June 2019.
Against stiff competition, Carmichael has been named a Dublin County winner of the National Lottery Good Causes Awards 2019. This is a testament to the work we do on behalf of community and voluntary organisations all around Ireland.
With 30 years' experience based on a foundation of 45 resident charitable organisations, we provide support to nonprofits to help them to become more effective and impactful at what they do.
We manage two buildings located in Dublin's north inner city which provide office accommodation for nonprofits. By co-locating in a shared space, pooling resources and tapping into peer support and services, our resident organisations can save time, reduce costs, up-skill and focus on delivering quality services to their beneficiaries.
We are also committed to working with nonprofits throughout Ireland and we deliver training programmes nationwide on governance, management and community leadership. Our training is designed to increase the effectiveness and impact of the community and voluntary organisations we work with. These organisations provide much needed services in the community. Examples include: community centres, sports clubs, community childcare services, social housing organisations and addiction support services.
For more information on the National Lottery Good Causes Awards 2019 see: https://www.lottery.ie/good-causes-awards.
Facebook – @nationallotteryireland
Twitter – @NationalLottery
Instagram – @lotteryie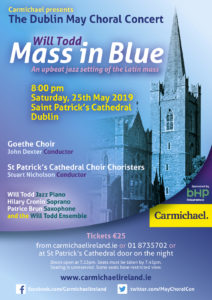 Carmichael presents
The Dublin May Choral Concert 2019
Will Todd: Mass in Blue
An upbeat jazz setting of the Latin mass
and Pater Noster by Igor Stravinsky
Featuring:
Goethe Choir
Conductor: John Dexter
Saint Patrick's Cathedral Choir Choristers
Conductor: Stuart Nicholson
Soprano: Hilary Cronin
Saxophone: Patrice Brun
And the Will Todd Trio
When: 8pm on Saturday, 25th May 2019
Where: Saint Patrick's Cathedral Dublin
Booking for this event has now closed. Tickets will definitely be on sale at the venue.
To date 74 CEOs and managers of nonprofit organisations have benefited from the Carmichael Mentoring Programme. We are now launching the next round of the mentoring scheme.
Being the leader of an organisation can be tough anywhere but it is especially true in the nonprofit sector. The value of a mentor is having someone who can ask questions that clarify the situation and can help relieve the anxiety that builds when there is nowhere to articulate the doubts and concerns that the CEO may feel.
The purpose of the Carmichael Mentor scheme is to help meet with this need by using our panel of very experienced mentors who bring a range of skills, insights and backgrounds in a range of sector such as large corporate, SME, public sector and the nonprofit sector. Our mentors are volunteers and will provide confidential one-to-one advice and guidance.
This mentoring round is limited to 8 places and the service for successful applicants is free. If you wish to apply, please complete the short application form and submit to Diarmaid@carmichaelireland.ie.
Carmichael would also love to hear from people who may be interested in becoming a mentor for this programme.
For more information on the programme, please contact Diarmaid@carmichaelireland.ie.
The closing date for applications is by 5pm, Friday, 29th of March.
The programme is only available to those working in the nonprofit sector.
Charity Trustees' Week aims to recognise and celebrate the key role which volunteer charity trustees play in the governance and leadership of charities across Ireland. Charity Trustees' Week is organised by a steering committee which includes Boardmatch Ireland, Charities Institute Ireland, Carmichael, Charities Regulator, Dóchas, Volunteer Ireland and The Wheel.
For Charity Trustees' Week, Carmichael will be hosting a number of workshops and events:
13th November – Board Roles and Responsibilities workshop
14th November – Introduction to Risk Management Webinar (Closed session.)
14th November – Carmichael Board Chairs' Network event (Fully booked.)
15th November – The Role of the Company Secretary workshop Fully booked.)
15th November – Good Governance Awards Night (By invitation only.)
The list of events for the week is available to view https://www.charitiesregulator.ie/en/information-for-charities/charity-trustees-week-2018. 
The Charities Regulator has published the Charities Governance Code which can be downloaded here. Further information can be found on https://www.charitiesregulator.ie/en/information-for-charities/charities-governance-code.